Surf with All-inclusive pack in Maldivas
Welcome to Natural Surf House, the most fun, economical and complete option for surfing in Maldives.
Surfing in Maldives: the best waves and the best deals on the islands
At Natural Surf House we are backed by more than ten years of surfing work in the Maldives, apart from a life dedicated to the passion for surfing.
We offer you surf guides in Spanish, English and/or Maldivian, who have the best knowledge of the spots in the area, being at your disposal in case any kind of unforeseen, both inside and outside the water. We will guide you to find the best possible option in each swimming sesion.
At Natural Surf House there are no intermediates: we are the same managers, who deal directly with you, ensuring you an optimal service.
All-inclusive pack to surfing in Maldives with complete peace of mind
– Rooms with private bathroom.
– Air conditioning in the rooms.
– Daily cleaning service.
– Free Wi-Fi.
– Green Tax.
– Snack before the first surf.
– Main breakfast, lunch and dinner.*
– 1 weekly barbecue of fresh fish.
– Unlimited coffee, tea and water.
* Varied and balanced menu.
– 3 daily boat trips in Dhoni to the waves of the area (JailBreaks, Honky's and Sultans).
– Surf guide in Spanish, English and Maldivian.
– Snorkel equipment rental
– Excursions to other spots (Cokes, Chiken's, Ninja's and Tombstone).
– 8 hours trip.
– Includes: sandwiches, fruit, juices and water.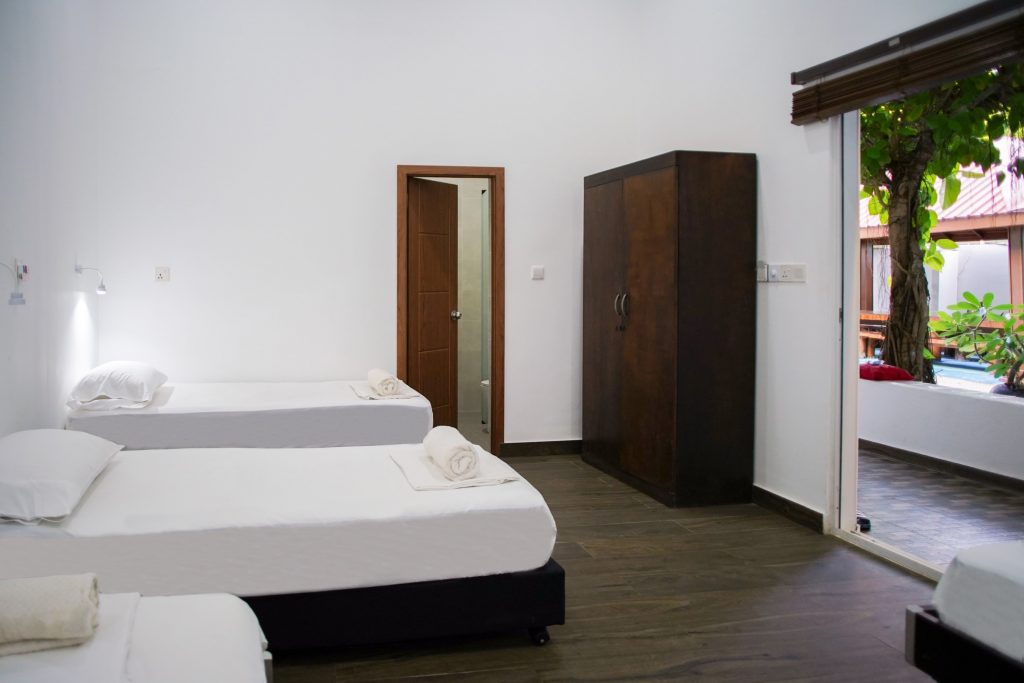 Our accommodation in Maldives is located in Himmafushi island.
– 1 x double room
– 2 x triple rooms
– 1 x quadruple room
– Large garden area
– Chill Out Terrace
* Each room is equipped with private bathroom, air conditioning and a fan.
– 7 x double rooms (with the possibility of converting three into triple if needed)
– 2 x lounges
– 2 x terraces
– Outside area
* The rooms have a private bathroom and air conditioning
Meet our Surf and Diving schools in Maldives
Do you want to perfect your style or learn? Natural Surf House is your place!
Maldives is an idyllic place for surf lovers. For this reason, we offer you the Surf School: you can improve your technique or start practicing this exciting sport.
Diving School in Maldives
Maldives is an idyllic place to practice snorkeling. For this reason, we offer you the Snorkel School: you can improve your technique or start practicing this exciting sport.
What do those who have already visited us and have surfed in the Maldives think?
Lukáš Václavík
05:05 07 Nov 22
That was my favorite holiday with you guys, thank you so much!Nice clear rooms amazing food and still something to do!
Josef Tylli
20:14 19 Sep 20
I've been travelling to the maldives each year for over 10 years. I've visited many islands and stayed at many guesthouses. Any of the natural surfhouse villas are by far better than anything else out there. The rooms are big, and lots of light. The common areas offer plenty of space to hang around and chill after an exciting day full of surf. However, the real highlight lies with the food and the staff. You will not find better food in any other guesthouse!!! The menus are very elaborated incluiding food from around the world. Always finishing up with delicious desserts !!!! Equally bar-raising is the way the staff treats every single guest…truly inspiring.I'd like to note as well that no other surf-guesthouse, camps, villas offer such a. Extensive dinghi/shuttle service. Boats usually leave 3 times a day to nerby honkeys, sultans and jailbrakes.It has been my best surf experience in the maldives by far!
Mohamed Iqbal
18:36 04 Jun 19
Really good service, and friendly guides. You could create your dream vacation with these guys.
Natural Surf House.
Subscribe to our newsletter
Subscribe to stay up to date with our news.